Tomato Sauce Processing and Filling line:
The tomato sauce, pepper and ketchup production line is designed for the production and packaging of tomato sauce, ketchup, pepper sauce or similar products such as jam, molasses and date jam. With the possibility of preparing a packaging line on demand to fill glass, plastic, metal, carton containers, plastic barrels, or even within nylon envelopes. The line has a high production capacity of 30 tons per day, with a moderate consumption of electrical energy, and all parts of the structure are made of L304 food grade stainless steel.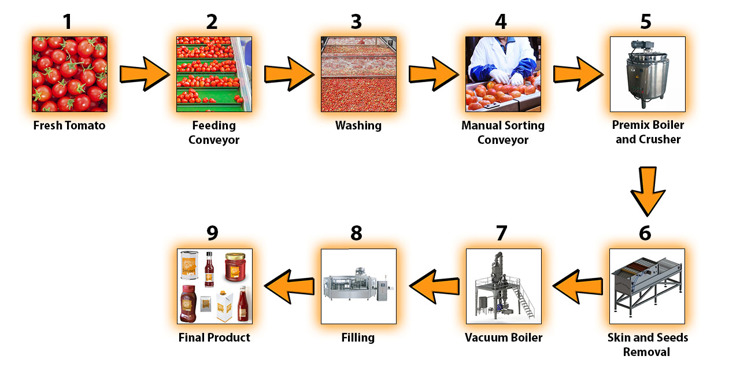 Work is done starting from the stage of receiving tomatoes and transporting them to the washing basin through a conveyor belt dedicated to receiving them, and within the basin the tomatoes are washed through air and water pressure, then the washed tomatoes pass through the control conveyor to be manually sorted, then move to the tomato crushing machine, and then the result is filtered to remove the seeds before it goes to the cooking stage, which takes place within a vacuum boiler that deflates the air to speed up the cooking process, then the sauce moves to the last stage before filling, which is the stage of pasteurization and sterilization, which is done by the tube mechanism, and then the filling process, which takes place under sterile conditions to obtain the final product.
Technical Information:
Machine structure

: Made of Food grade Stainless Steel (L 304)

Electrical Specifications

: 3 Phase | 380 V | 50-60 Hz

Mechanical Parts

: Made of Food grade Stainless Steel (L 304), only motors and some mechanical parts are made of aluminum, steel and copper

Bearing

: SKF

Engines and Gearboxes

: Turkish industry with German distinction

Main Controller

: Omron

Electric Elements

: Siemens - Schneider

Touch Screen and Control

: Omron touch screen control – It controls all operations of the machine, and includes four different languages

Pneumatic Control Systems

: Festo

Air Pressure

: 6-8 Bar
Materials

:
Production Lines Accessory

:
Interior Parts Manufacturers

: