Fruit and Dates Jam Processing and Packing Line:
The Dates Jam Production and Filling Line is considered one of the Food processing equipment, from SmartMak™ one of the most important Food processing equipment manufacturers.
The Dates Jam Production and Filling Line from SmartMak™ is a distinguished and fast solution for the production of all types of jam, as the line produces high quality jam with a production capacity of 5 tons per hour.
Attached to the line there is a special tank for storing the used sweetener, which may be composed of Glucose solution, fructose solution, or any other sweetening solution, in addition to a heating unit connected to the tank to reduce the viscosity of the solution and facilitate its pumping through a special pump to the production line.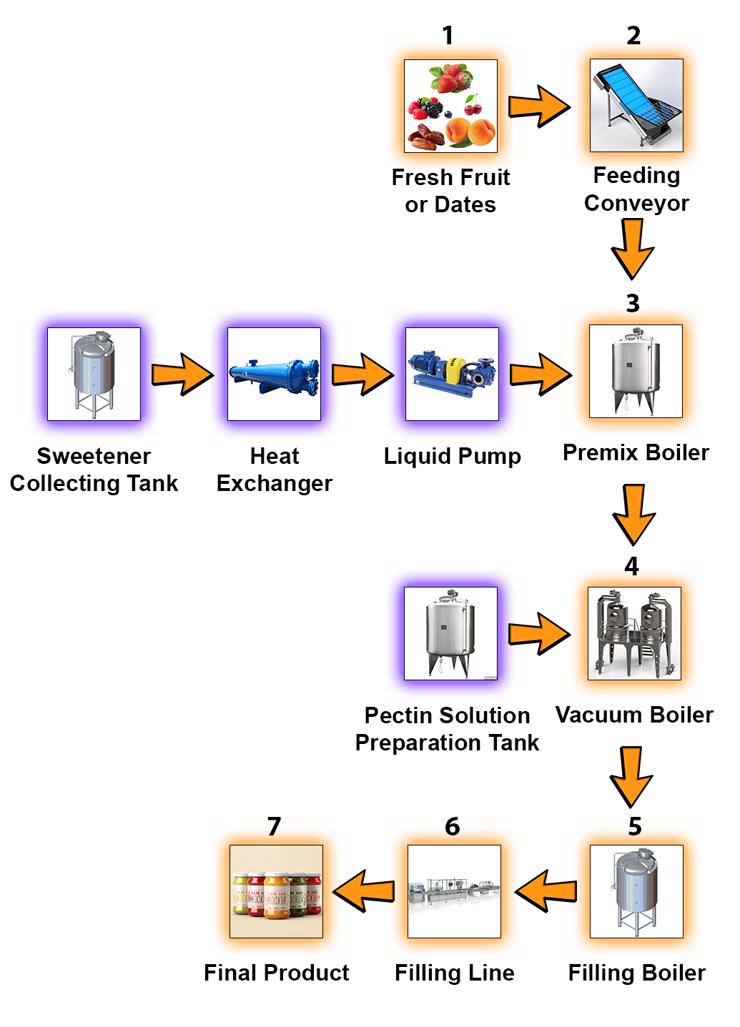 The line starts working from fresh and ready-to-work fruits, which are transmitted through a conveyor to the premix boiler, which consists of a double wall "double jacket" tank that heats the fruit and mixes it with the sweetener coming from the storing tank, then the mixture is pumped to the vacuum boiler.
There, the pectin solution -which is coming from its preparation and storing tank- is added to the vacuum boiler, and then the mixture is cooked under low pressure to speed up the process.
The prepared jam is then transferred to a collection tank equipped with a mixer and a double wall "double jacket", where it is maintained homogeneously and at a suitable temperature for filling. This tank is connected to the filling line in glass or plastic jars as desired.
Technical Information:
Machine structure

: Made of Food grade Stainless Steel (L 304)

Electrical Specifications

: 3 Phase | 380 V | 50-60 Hz

Mechanical Parts

: Made of Food grade Stainless Steel (L 304), only motors and some mechanical parts are made of aluminum, steel and copper

Bearing

: SKF

Engines and Gearboxes

: Turkish industry with German franchise

Main Controller

: Siemens

Touch Screen and Control

: Siemens touch screen control - It controls all operations of the machine, and includes four different languages

Pneumatic Control Systems

: Festo
Materials

:
Production Lines Accessory

:
Interior Parts Manufacturers

: