Dates Molasses Production and Filling Line
The Dates Molasses Production & Filling Line is considered one of the commercial and industrial food processing equipment, from SmartMak™ one of the most important Food processing equipment manufacturers.

The Dates Molasses Production & Filling Line from SmartMak™ produces pure dates molasses, at a controlled concentration.
The line work starts from raw dates or dates paste to packaging in glass, plastic or metal containers of various sizes and shapes as requested.
This line is characterized by a high production capacity of up to 500 Kg per hour, and the work in it is done completely automatically and without the intervention of the labor, and it is also characterized by the presence of Clean in Place System (CIP), that guarantees washing the entire line with hot water and chlorine to clean and sterilize all parts of the line and pipes from inside.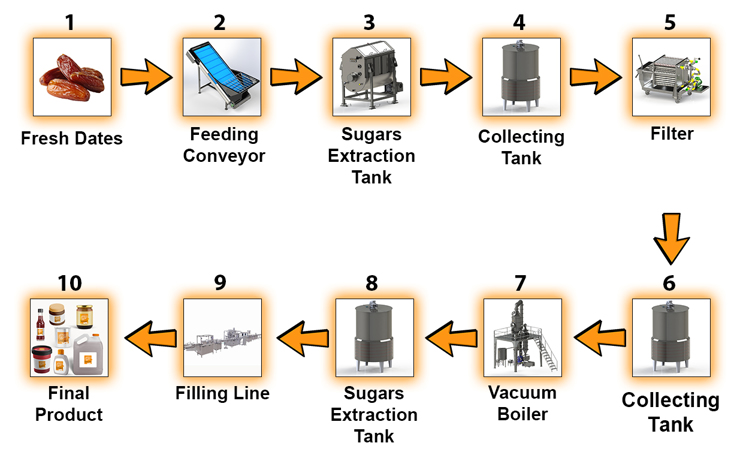 The line produces molasses from raw dates or dates paste, which is transferred to the sugars extraction unit, where water is automatically added to it with mixing to ensure the extraction of the largest possible amount of sugars, then the resulting liquid is pumped to a collection tank, to be filtered through decanter centrifuge then a press filter to ensure filtering the liquid of sediments, tissues and cores, and the resulting net liquid is transferred to a collection tank in preparation for condensation.
Condensation is carried out within vacuum condensing tanks (Vacuum Boiler) that condense the liquid at a relatively low temperature and low pressure, which ensures that the properties of the resulting molasses are preserved, which is finally transferred to collection tanks in preparation for the filling stage.
The line is provided upon request with equipment to fill the required packages and carton them up to the stage of making them ready for shipment as a final product, where the line can be equipped with a plastic gallon filling machine with a capacity between 10-25 kg, and the line can also be equipped with a small glass, plastic or metal packaging line (100 mL - 1 liter).
Technical Information:
Machine structure

: Made of Food grade Stainless Steel (L 304)

Electrical Specifications

: 3 Phase | 380 V | 50-60 Hz

Touch Screen and Control

: Delta or Omron touch screen control – It controls all operations of the machine, and includes four different languages
Materials

:
Production Lines Accessory

:
Interior Parts Manufacturers

: