Dates Paste Production and Filling Line
The Dates Paste Production and Filling Line is considered one of the commercial and industrial food processing equipment, from SmartMak™ one of the most important Food processing equipment manufacturers.
The Dates Paste Production and Filling Line from SmartMak™ is charecterized by its high quality and high production capacity, in addition to the fact that production within this line is completely automatic and without any labor intervention, according to a high harmony between mechanical and electrical operations.
The line has an integrated protection system for its workers, as it guarantees protection from electric current surges, and it also ensures that the work stops automatically when the packaging material roll ends to prevent any waste in the materials.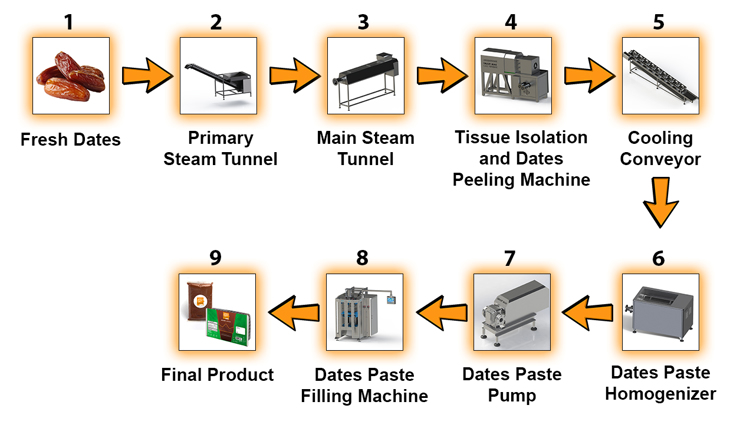 Work begins in the line from the stage of receiving raw dates, which all types of dates can be used, whether dry or wet, as the dates pass through the primary steam tunnel and then the main steam tunnel, which ensure moistening and sterilization of the dates, then the moistened dates are transferred to the pitting and tissue removal unit, which isolates the seeds completely within an almost non-existent waste rate, this unit also chops the resulting dates, then the product is cooled within a cooling tunnel, in preparation for homogenizing it within the homogenization unit, then the resulting homogeneous paste is pumped through a special pump to the packing machine, which packs the paste into thermal forming transparent bags or printed bags, the line features a vacuum packing process to ensure that the paste does not ferment and react with oxygen.
Technical Information:
Machine structure

: Made of Food grade Stainless Steel (L 304)

Electrical Specifications

: 3 Phase | 380 V | 50-60 Hz
Materials

:
Production Lines Accessory

:
Interior Parts Manufacturers

: