Frozen French Fries Processing and Packing Line:
The Frozen French Fries Processing and Packing Line is considered one of most important food processing equipment, from SmartMak™ one of the most important Food processing equipment manufacturers.
The Frozen French Fries Processing and Packing Line from SmartMak™ is characterized by its high quality and high production capacity, in addition to the completely automatic production within this line without any manual intervention, and the production is carried out in accordance with international specifications, the line is CE certified.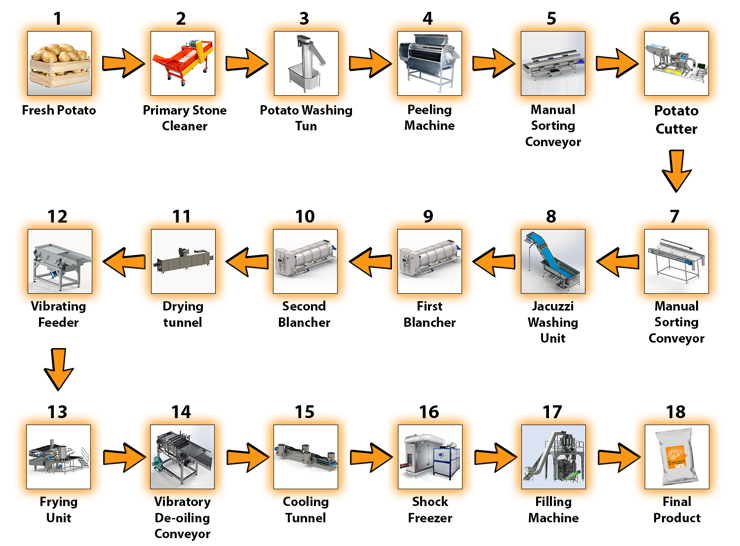 The work is done starting from the stage of receiving the potatoes, passing through the stage of cleaning and purifying them from the dust and peeling them with a peeler, and isolating them from the peels, then they are cut into fingers with adjustable dimensions as desired, then the fingers are washed and de-starched in two stages to ensure the quality of the work, then the fingers are dried to prepare them for the frying stage, which takes place within an efficient automatic frying unit that filters the used oil and compensates for the deficiency constantly, then fingers pass the vibratory de-oiling unit before they go through the cooling and rapid freezing stage (Shock Freezer), reaching its packaging in the final product bags.
Technical Information:
Machine structure

: Made of Food grade Stainless Steel (L 304)

Electrical Specifications

: 3 Phase | 380 V | 50-60 Hz

Mechanical Parts

: Made of Food grade Stainless Steel (L 304), only motors and some mechanical parts are made of aluminum, steel and copper

Bearing

: FAG

Engines and Gearboxes

: Turkish industry with German distinction

Bag Length/Box Size Control

: Photocell via a German optical sensor made by Sick

Main Controller

: Omron

Touch Screen and Control

: Omron touch screen control – It controls all operations of the machine, and includes four different languages

Air Pressure

: 8 Bar

Power Supply

: Omron
Materials

:
Production Lines Accessory

:
Interior Parts Manufacturers

: