Dates and Fruits Drying Line:
The Dates and Fruit Drying Line is considered a very effective food dryer machine which is used to obtain dry fruits and dates, from SmartMak™ one of the most important Food processing equipment manufacturers.
The Dates and Fruits Drying Line from SmartMak™ produces dry fruits and fruits starting from their fresh form. The work within this line is completely automatic, with a high production capacity of 500 kg per hour, and the line is distinguished by its conformity with the European quality specifications CE.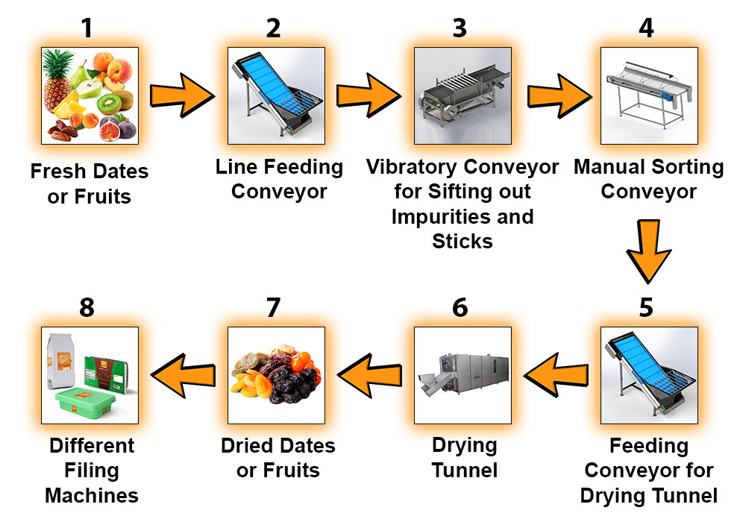 Work within this line starts from dates or fresh fruits, which are transmitted via a feeding conveyor to the impurities and sticks removal unit which removes the sticks and impurities, and ensures the removal of any foreign materials can be found between the fruits, then the dates or the purified fruits are transferred to the quality control and manual sorting to manually exclude any dates or Fruits that are not valid, then they reach the drying tunnel through a special elevator belt, where the dates or the fruits are dried within it homogeneously.
Various packing lines can be added to this line as desired, where the product can be packed in plastic containers, bags, or in transparent vacuum packages (thermoforming).
Technical Information:
Machine structure

: Made of Food grade Stainless Steel (L 304)

Electrical Specifications

: 3 Phase | 380 V | 50-60 Hz

Mechanical Parts

: Made of Food grade Stainless Steel (L 304), only motors and some mechanical parts are made of aluminum, steel and copper

Bearing

: SKF

Engines and Gearboxes

: Turkish industry with German distinction

Main Controller

: Omron

Pneumatic Control Systems

: Festo
Materials

:
Production Lines Accessory

:
Interior Parts Manufacturers

: